I belong to another very interesting Group - Quilting Circle of Friends.








Here are some Welcome Squares from members.
Thanks a lot girls for the warm reception.
I am feeling at home here.


My Welcome Square for you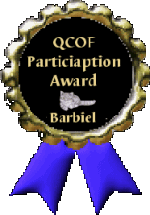 Award received March 1, 2003 for joining the New Membership Plaque Contest.


Members Shadowbox



Click bellow to see the gifts my Secret Quilters have sent me.

From September:

I am wondering who she (he) is... (September 21, 2002)
I know now (September 30, 2002): Amanda_NZ.
!!! I was her Secret Quilter too !!!


From December:

Secret Star was Berkanna





Quilt Menu


Secret Quilter September 2002

Secret Quilter December 2002

Pass-A-Square Game 2002

Chistmas Quilt 2002

Valentines Blinkies Quilt 2003

How Well Do You Know Me Quilt 2003
A Circus Life Quilt 2003

QCOF 2nd Birthday

QCOF 3rd Birthday