Dear Friends!
I just love Quilts!
I know that there are many sites about it all over the world.
For this reason I have added to this one some other alternative, funny and all-days themes
and quilts from my online groups, so you are able to join it in a way that will correspond your interests - I hope...
I have also created a very personally theme - Persons - that means, you can make a square from someone who is famous.
Or you can make a square from yourself (your own portrait, of course with your name, so I can get to know you better!).
I invite you all to join and I am already curious what will come next... Don't you too ?
All you need to do is to send me, per email, a 130x130 pixels square, with your graphic, your foto or anything that you like.
Please don't forget to send me your URL too, so that I can link back to your site and visit you sometimes.
I hope we will have a lot of fun and spend a very nice time together by quilting !!!
Tania aka
~*~Barbiel~*~


If you liked my site and enjoyed your visit
Send this to friend!



Best viewed: 800x600 full screen Microsoft Internet Explorer 6.0 or higher.
Netscape users maybe will not be able to see the site correctly.
Site is graphic intensiv, may take some time to load images and sound.




Membership Plaque PlusPSP



Membership Plaque PSPUG



Favorite programs used to make this site and many others not listed here














Some tubes from

Graphics Galore


Other tubes from Jazzl, Karen´s Korner, Tubes Links and Steele Grafix

Midi files founded in the Net





© Copyright 2001-2005 Germany. No unauthorised duplication permitted. All rights reserved.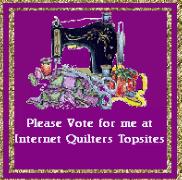 Vote for me in Internet Quilters




Vote for me in Great Friendship Quilts List

Quilt World is a member from: